2013 Hope
From Animation Luzern Wiki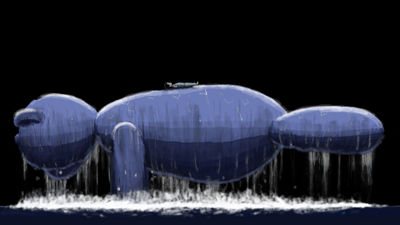 Synopsis / Summary / Résumé
DE: Ein Junge liegt im Koma auf der Intensivstation. Auf dem Bett liegt sein Teddybär. Neben dem Bett stehen seine Eltern und ein kleiner Nachttisch mit dem Bild von seinem Hund.
Im Koma bestreitet er eine abenteuerliche Reise durch sein Unterbewusstsein. Dort trifft er seinen Hund "HOPE" an. Was geschieht mit dem Jungen, wenn es ihm gelingt, seinen Hund zu retten?
EN: A boy lies comatose in the intensive care ward. On his bed lies his teddybear. Next to his bed, his parents stand guard, and on a bedside table is a photo of his dog. While in coma, the boy braves an adventurous journey through his subconcious. There he meets his dog, "HOPE". What will happen with the boy if he succeeds in saving his dog?
Bilder / Stills / Images
File:20XX name meines films-stills.zip
File:20XX name meines films-making of.pdf
Technische Angaben / Technical information / Informations techniques
Herkunftsland/Origine/Origine: Schweiz
Produktionsjahr/Year/Année: 2013
Dauer/Duaration/Durée: 5' 00"
Verfahren/Process/Processus: Farbe/Color/Couleur
Technik/Technic/Technique: 2D
Grösse/Size/Taille: 1920x1080
Format/Format/Format: DCP / Digibeta / File
Aspekt/Aspect/Aspect: 16:9
Ton/Sound/Son: Stereo / Dolby / 5.1 Surround
Credits
Nach einer Idee von/Adapted from/Adapté de l'oeuvre de: Wundere Lorenz
Script/Scénario: Wundere Lorenz
Graphiken/Graphics/Graphisme: Wunderle Lorenz
Storyboard: Wunderle Lorenz
Layout: Wunderle Lorenz
Hintergrund/Background/Décor: Wunderle Lorenz
Animation: Wunderle Lorenz,
Kamera/Camera/Caméra: Wunderle Lorenz
Compositing: Wunderle Lorenz
Musik/Music/Musique: Barengo Michel
Sound Design: Thomas Gassmann / Frederic Siegel
Mischung/Sound/Son: Gassmann Thomas
Foley: Hebben Dieter
Tonschnitt: Siegel Frederic
Editing/Montage: Wunderle Lorenz
UV-Layout: Christov Ivo
Coloring: Wunderle Lorenz, Ghanaatgar Mojgan, Bossert Charmaine, Montaño Veronica, Siegel Frederic
Realisator / Direction / Réalisation
Herr Wundere Lorenz
Produktion / Production
Hochschule Luzern Design und Kunst
Animation
Herr Chalet François

Weitere Informationen / More informations / Informations additionelles
Werkzeuge/Tools/Outils: ( Bleistift / Pinsel / Druck )
Software: (TV Paint / Aftereffects)
Zielgruppe/Target audience/Public ciblé: ( Alle / Kinder / Jugentlich / Adult )
Genre: ( Adventure / Dokumentation / Drama / Umwelt / Erotik / Expermental / Fantasy / Humor / Musical / Thriller / Satire )
Musikliste / Music Cue Sheet:
| | | | | | | |
| --- | --- | --- | --- | --- | --- | --- |
| Kurzfilm | Titel des Werkes | UrheberIn | Album o. Jahr | Dauer (hh:mm:ss) | Label | Art des Werks |
| Kurzfilm | Titel des Musikstückes | Name des Musikers | 20xx | hh:mm:ss | - | (Auftragswerk / bestehendes Werk / etc.) |
Präsentiert an anderen festivals / Presentet at other festivals / Présentations antérieures dans d'autres festivals