2018 Lumina
From Animation Luzern Wiki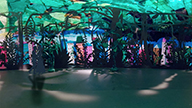 Studentfilms Category:Film Category:BA Ani Film
DE: Lumina
EN: Lumina
FR: Lumina
Synopsis / Summary / Résumé
DE: Möchtest du in die Welt der impressionistischer Malerei eintauchen? Erlebe einen Tag in einem Stadtpark, wie es die Maler um 1900 in Paris taten. Der 360°-Film nimmt dich auf eine Reise in eine Zeit vor 100 Jahren.
EN: Do you want to stay in the world of an impressionistic painting? Experience a day in a city park as the painters around 1900 in Paris did. The 360° film take you for a journey to a time 100 years ago.
FR: Voulez-vous rester dans le monde d'unepeinture impressionniste ? Vivez unejournée dans un parc urbain commel'ont fait les peintres vers 1900 à Paris. Le film 360° vous emmène dans unvoyage dans le temps d'il y a 100 ans.
Regie / Direction / Régie
Frau/Mrs/Mme Nyffenegger Marion
Bilder / Stills / Images
Credits
Technische Angaben / Technical information / Informations techniques
Herkunftsland/Origine/Origine: Schweiz
Produktionsjahr/Year/Année: 2018
Dauer/Duration/Durée: 4' 04"
Verfahren/Process/Processus: Farbe/Color/Couleur
Technik/Technic/Technique:Legetechnik / 2D
Grösse/Size/Taille: 1280x720
Format/Format/Format: HDV
Aspekt/Aspect/Aspect: 1,37 / 1,66 / 1,85 / Scope
Ton/Sound/Son: 5.1 Surround
Weitere Informationen / More information / Informations additionelles
Schule/School/Ecole: Hochschule Luzern, Design & Kunst http://www.hslu.ch
Dozent/Professor/Professeur: Ehmann Jochen
Software: Aftereffects
Zielgruppe/Target audience/Public ciblé: Kinder
Genre: Expermental / Fantasy
| | | | | | | |
| --- | --- | --- | --- | --- | --- | --- |
| Kurzfilm | Titel des Werkes | UrheberIn | Album o. Jahr | Dauer (hh:mm:ss) | Label | Art des Werks |
| Kurzfilm | Titel des Musikstückes | Name des Musikers | 20xx | hh:mm:ss | - | Auftragswerk / bestehendes Werk / etc. |
Präsentiert an anderen festivals / Presented at other festivals / Présentation à d'autres festivals