2019 - Exchange Report - RUBIKA - Emmanuelle Petermann
From Animation Luzern Wiki
Exchange report with the school RUBIKA by Petermann, Emmanuelle in the spring semester of school year 2018-2019.
Before the exchange
I couldn't believe that I would be able to enter an excellent ranked school! Indeed, "Rubika" is on the top 10 on the "best animation school in the world" list. Can you imagine? I was so happy but at the same time I was a bit afraid of not being as good as all my future classmates. I have chosen to go there to learn a bit more of 3D and to speak in French. I wanted to see how it was in such a famous school, if it was different from here in Switzerland and why it has a such good review.
The school is located in Valenciennes in North of France, by the "ch'tis" in French (you should all watch the movie "Welcome to the Sticks" to get prepared). The biggest city near Valenciennes is Lille, a really cute city with a beautiful old city. Belgium is really, but really next to there. How cool! Waffles, I'm coming!
The steps that were the most annoying were when I had to prepare all these small details before leaving, such as accommodation, electricity, insurances. The school gave me some internet links and answered all of my questions but they don't carry all of these administrative stuffs for you. There are many rooms that you can rent BUT some are not furnished and some are not for small stays...great. That was quite tricky. I've found an accommodation one month before my departure. A studio in a student residency. That was a bit more expensive than the other accommodations I saw on internet but I really wanted something furbished and my own place. But compared to Switzerland the accommodations are cheaper. In fact, almost everything is cheaper. The trickiest thing to manage was the electricity and the heating costs. Indeed, I arrived in January and it was cold, even in my studio; the temperature was 15°C and I needed to heat a lot till it got warmer. You need to take care when renting a flat about the isolation. Otherwise the bills will be huge.
Before my arriving, I've received some messages via Messenger from my future classmates. They welcomed me and updated me about the program, in which a 2D animated movie is demanded. They linked me all the projects - because they had to prepare it during the previous semester - so that I was able to decide on which project I wanted to work.
Arriving in Valenciennes
So, my flat was located a bit on the edge of the city center but it was in a quiet and relaxing place, near a river with its ducks. The only annoying thing was that I had to walk 40 minutes from home till school and 20 minutes to the city center. After two weeks, I got used to it. And it was my way to do exercise in my day. Luckily, I was leaving near a supermarket's zone.
I arrived two days before the first day of school. The day before, I received a mail saying that the lessons were cancelled for me because they concerned the last semester only. That was like a jury session. Great...! I took time to visit a bit the town. It has cute places, it's not really big but you can find everything. People are really friendly especially when you have an accent.

A week later, I finally went to school. Such an impressive building! Really modern and huge! I liked the atmosphere inside but outside as well. I met the person who is in charge of foreign students and she gave me all the explanations I needed. Then I went into the room for the sound design lesson. I was alone with another girl who seemed shy. But quickly some other students came in and a lot of them came to me and welcomed me. They were all very friendly and curious about me. How good to speak my mother tongue and be able to understand everything!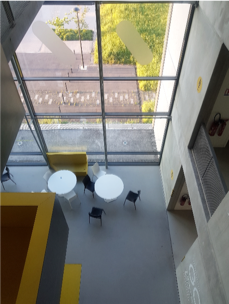 The school has different paths, not only animation. Almost every student wants to study there the 5 years, which means till the Master. In the Master they continue giving lessons, they have a full program and they don't really have free time. I think that's why they have such a good level when they finish school.
The animation section, the 2nd years class in which I was, was separated in 2 classes because they were too many, around 50 students. But at each break time, the other class came to say "hi" and inversely.
A typical day begun at 9:30 with a 15 minutes break at 11:00. There were coffee/tea vending machines and a cup only costs 0.30 Euros! The lunch time was from 12.30 to 2.00 PM but there was no cafeteria. There was only a vending machine with sandwiches and pasta boxes. But every Wednesday and Friday 2 different food trucks stopped at school. Aldi was not far away to get some food. The school finished at 5:00 PM but sometimes at 6:30 PM when we had 2D animation or video editing lessons.
The school also had a huge cinema room, bigger than the HSLU D&K one! There were often conferences with professional studios coming to present themselves and suggest to the students to apply by them when they finish school! I was astonished; the employers come at school to convince the students to apply! Someone told me that indeed, Rubika is expensive, but the students are sure to have a job afterwards; there is like a partnership between the French studios and the French schools.
Working process
Time for my decision. One guy asked me if I would be interested in joining him on his project because his group of 3 persons has dissolved. I said "yes". We were in a group of 2 now. I don't know why but he wanted to create a brand-new story and he gave up the previous project in which he and the other members had worked on. Technically we were late compared to the others who had done all the pre-production stuff like the storyboard, the designs etc. The movie should have been between 1 and 2 minutes maximum. That's huge when you leave the HSLU with a finished movie which was only 25 seconds! Two weeks after the first day at school, I was already in a rush. And I would never have imagined that it would have been the same during all the semester!
My teammate and I didn't have the same approach to work, but I think we both tried our best to make it work. The story was too long, too complicated, and the teachers and I had doubt about finishing it. But my teammate didn't want to change too many things. As I am a shy person and I hate fighting, I didn't dare go against him, so I just kept my mind. I wanted to focus on things and he wanted to focus on other ones. Sometimes even the teacher was disconcerted and didn't know what to say to make him recover the reason. But he was a fantastic person out of that, we spoke a lot about our respective lives, our dreams, we laughed too. Everyone was fantastic.
Everything went too fast; the lessons were really intense. I've had only 3 free weekends for me in the semester, because I needed to work on the projects the other ones. Apparently, the schedule management this year was "experimental" so a lot of things went wrong or were not logical. The last month, everyone was working all night long, sometimes with no sleep at all.
All along this semester, I've had quite the same lessons that we also have at the HSLU, like 2D animation, 3D modeling, sound design, video editing, but some new ones like character design, colors, storyboard, English, technical drawing and compositing. In between there is a special "green screen" week which was like a break but stressful at the same time.
The accent is on 2D animation the first 2 months and then 3D modeling (with MAYA) has more and more presence in the program and 2D has less and less lessons dedicated to itself. The 2D movie needed to be done at home after school, to be able to present it for the jury. There was no free time in the week to let the students work on all the projects, so at some point, near the end of the semester, everyone was tired, irritated and some cried a lot under the pressure we had. For the jury, we had to present of course the 2D movie and a short live-action movie which was begun during the editing video class. But every course was important because they gave ECTS points and if the average was not achieved, then there were no ECTS.
Conclusion and Tips
To conclude, I went to Rubika to see how it is like to study in a school where there is no place for self-learning, where you have each day a lesson, where you have to write an excuse if you miss a single hour, where you can't arrive late without announcing it to the secretariat. In a sense, it was interesting because it has forced me to work, work and work, 11 hours a day minimum. I have learnt to be conscious and determined; but I have also learned to listen to my body. It's strange to say that but at some point, when everything was hard, when I was discouraged because it was too hard due to lack of sleep, I said "stop, now I'm going to sleep, and I don't care if I'm not going to finish it perfectly." I felt that I needed to relax. One month before the end of the semester, I've enjoyed for the first time the fitness room that was in my residency. From there, I've made some exercises each evening to feel good. And I felt better! Even if it was tough, I have learned to be more precise in my drawings and in-betweens with my frames in 2D animation; I saw that the communication between the coworkers is important, and separate each moving element on different frames too. In 3D, I was expecting to have some animation, but it was only modelisation with "Maya". So, I was a bit disappointed about this point but I think it was my fault; maybe I haven't read carefully the program before applying. But I was not really good before going in France, so that was a good thing for me to redo some modelisation again. I know that I still don't like it; it is not "my thing"; now I know that I want to focus on 2D animation and a bit of 3D animation. In Sound Design, I have used a new software; it was called "Ripper". It works quite the same as "Protools", even easier. In the Video Editing class, we have used "Avid Media Composer", a similar one to "Adobe Premiere". I was not lost with the softwares. In 2D, we had the choice to use the software we wanted; the school has the license for "TVPaint" (but a previous version), "Toonboom", "Duik" and all the "Adobe Suite" as well. There is no lack of material, you can find and use everything if you ask in advance. But the drawing tablets' availability is poor; or only old and small ones are free. I did well to take mine.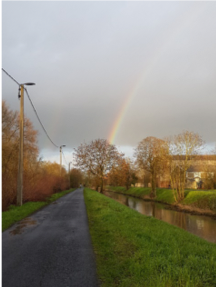 I have met new friends, the class itself was super cute; everyone was nice and helpful with the others, they acted like if they were a family. The weekends they were happy to come at school to work even if it was a hard time, just to see the classmates, have an improvised brunch and laugh together. Without this atmosphere, it would have been hard. I saw how much they were really focused on work; they did nothing except working, they are devoted. Some of them already have amazing skills, for me some already had a professional level. They are always happy to help you if you ask for tips or if you are stuck with 3D like me, they help you when the teacher is already helping someone else. I felt so relieved.
Before applying there, I saw that they prefer welcoming French talking students (at least a minimum of French skills) BUT, there were a lot of Indian students speaking only English. Indeed, Rubika had a campus in India but it has closed from what I have heard. So, all the students came in France. Don't worry if you don't have good French skills, some don't speak at all. The teachers translate for you in private if you need to, and I am sure that every student know English. At the beginning of each lesson, the teachers like giving a small introduction about the topic of the day, but there is no theory class. There is no big deal if you don't really get the teacher's speech.
Living in North of France was exciting even if I haven't had the opportunity to visit often; but the architecture is nice and different, the weather was not that bad, it is only 2-3 °C under what we have in Switzerland. People like drinking beer and having parties the evenings. The bars are always crowded. I wouldn't say that I would live there but it was a good experience.
Now I still feel uncertain about how was the whole experience. I know that the program was messy and because of that I was stressed out the whole semester. I regret not having had the opportunity to visit more the region and not knowing all my classmates. The main word to resume my exchange is: "work". That is a good thing in a way because now I know what it is like to be under pressure. I have learned a lot and I feel more confident about the process in an animation movie's production. Every experience always has a good and a bad side, and the good side is winning for this one I think. I grew up in my work, I have new friends and I know when to say "stop" when I2m tired; I am so grateful to have had this opportunity in my life. I encourage everyone to do it if he/she can.
My accomodation : https://www.easystudent.fr/residences/valenciennes-residence-etudiante/
Website: https://rubika-edu.com
Address : CAMPUS VALENCIENNES (FRANCE) 2 rue Peclet 59300 Valenciennes Phone : +33 (0)3 61 10 12 20
Contact: William MARCHAND william.marchand@easystudent.fr 06.88.68.88.97