2021 Pechvogel
From Animation Luzern Wiki
EmbedVideo does not recognize the video service "service".
DE: Pechvogel
EN: Pechvogel
FR: Pechvogel
Synopsis / Summary / Résumé
DE: In einer dystopischen Welt, die von sonnenanbetenden Vogelmenschen bewohnt wird, sehnt sich ein bemitleidenswerter und einsamer Vogel nach einer Umarmung des unerreichbaren Kultführers.
EN: In a dystopian world inhabited by sun-worshipping bird-people, a pitiful and lonely bird longs for an embrace from the unattainable cult leader.
FR: Dans un monde dystopique peuplé d'hommes-oiseaux qui vénèrent le soleil, un oiseau pitoyable et solitaire se languit de l'étreinte de l'inatteignable chef de culte.
Regie / Direction / Régie
Natasha Carolus / Océane Klingler / Tamara Milosevic / Anahi Rodriguez
Produktion / Production
Hochschule Luzern Design und Kunst
Animation
Gerd Gockell
Bilder / Stills / Images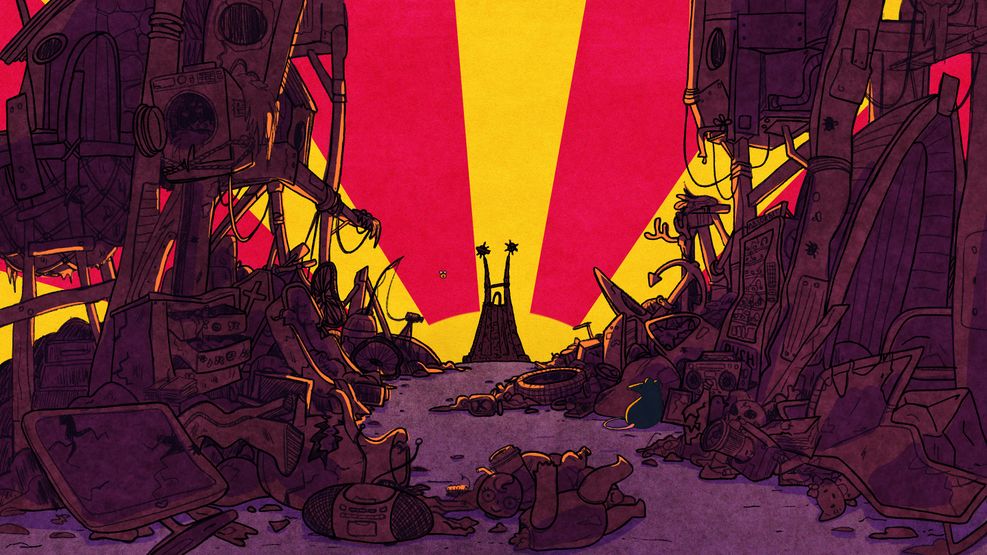 Credits
Technische Angaben / Technical information / Informations techniques
Herkunftsland/Origine/Origine: Schweiz
Produktionsjahr/Year/Année: 2021
Dauer/Duration/Durée: 3'40"
Verfahren/Process/Processus: Farbe/Color/Couleur
Technik/Technic/Technique: 2D digital
Grösse/Size/Taille: 1920x1080
Aspekt/Aspect/Aspect: 16:9
Dialog/Dialog/Dialogue: EN
Untertitel/Subtitle/Soustitre: DE / FR / EN / IT
Ton/Sound/Son: Stereo / 5.1 Surround
ISAN: 0000-0006-1215-0000-C-0000-0000-1
Weitere Informationen / More information / Informations additionelles
Schule/School/Ecole: Hochschule Luzern, Design & Kunst http://www.hslu.ch
Modul/Module: BA-Abschluss
Dozent/Professor/Professeur: Jürgen Haas
Mentoring/Mentorship/Mentorat: Jane S. Mumford / Lorenz Wunderle
Software: TVPaint / Photoshop / Aftereffects / Premiere
Zielgruppe/Target audience/Public ciblé: Jugendliche / Adult
Genre: Tragic Comedy / Humor
Musikliste / Music Cue Sheet:
| | | | | | | |
| --- | --- | --- | --- | --- | --- | --- |
| Kurzfilm | Titel des Werkes | UrheberIn | Album o. Jahr | Dauer (hh:mm:ss) | Label | Art des Werks |
| Pechvogel | The Sun Cult | Jókay Pablo | 2021 | 00:00:34 | - | Auftragswerk |
| Pechvogel | Burning Desire | Jókay Pablo | 2021 | 00:00:29 | - | Auftragswerk |
| Pechvogel | The Plan | Jókay Pablo | 2021 | 00:00:14 | - | Auftragswerk |
| Pechvogel | At Night | Jókay Pablo | 2021 | 00:00:31 | - | Auftragswerk |
| Pechvogel | The Ceremony | Jókay Pablo | 2021 | 00:00:17 | - | Auftragswerk |
| Pechvogel | The Catapult | Jókay Pablo | 2021 | 00:00:25 | - | Auftragswerk |
| Pechvogel | Credits | Jókay Pablo | 2021 | 00:00:31 | - | Auftragswerk |
Verkauf des Films / Sale of film / Vente du film
Vertrieb / Distribution
Präsentiert an anderen festivals / Presented at other festivals / Présentation à d'autres festivals